Fundraise with us!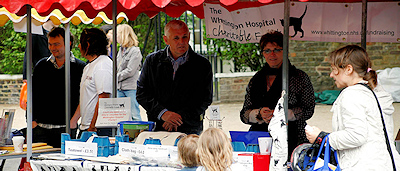 Volunteer at our charity stall!
We are looking for relaxed and friendly individuals to volunteers at our charity stall and local events. The Whittington Hospital Charitable Funds is home to the world's best (we think!) range of cat merchandise, as well as a variety of Whittington books and items.
All the money that you raise will go to our hospital charity, which raises money to purchase equipment, fund projects and improve facilities for the benefit of patients. staff and the wider community.
Legalities

Licences; please ensure you have a licence in place if you are doing street collections, providing alcohol or public entertainment. Please check with your local authority for further information

Lotteries and raffles; for any gambling related activity including a lottery or raffle, please check with the Gambling Commission by visiting www.gamblingcommission.gov.uk
Food and drink; if providing food and drink, please check with your local authority regarding food hygiene and alcohol regulations at events or visit www.gov.uk
Collections; please bear in mind that it is illegal to carry out house to house or public street collections without a licence. If you would like to arrange a street collection on our behalf, please contact us!

Whittington Hospitals Charitable Funds cannot be held liable for any fundraising activity or event you undertake on our behalf. Please ensure you conduct a full risk assessment and/or have insurance in place prior to any event.
We would like to hear from your whatever challenge you decide to take on. For more information and to advise us of your participation in an event, please contact 020 7288 3402 or
fundraising.whitthealth@nhs.net
.
Fundraising ideas
We know running a marathon or jumping out of a plane isn't everyone's favourite way to raise money. Have a look at the list below to find inspiration:
A
Abseiling
Aerobic Events
Art Exhibition
Auction of Promises
B
Black Tie Dinner
Badminton Tournament
Bingo
Bring and Buy Sale
C
Car Boot Sale
Carol Concert
Cycle Ride
Coffee Morning
D
Darts evening
Dinner dance
Dance Marathon
Dress 'UP' (not down!) day
E
Easter Egg Raffle
Exhibition
Expedition
Exercise bike race
F
Football Tournament
Fancy Dress Party
Fashion Show
Fete
G
Garden Party
Golf Tournament
Graduation Party
Gym Challenge
H
Halloween Party
Horse show
Health Ball
Healthy eating challenge
I
It's A Knockout
Irish themed pub and quiz night
Ice skating tournament
Indoor market
J
Jam Making
Jail break
Jumble Sale
Junk mail recycling
K
Karaoke competition
Knitting competition
Knobbly Knees competition
Kayak across the channel
L
Lawn Mowing competition
Left handed day
'Ladies who lunch' day
Land's End to John O' Groats walk, cycle or run!
M
Mastermind Event
Motorcycle around the UK Coast
Midsummer Party
Madhatter's Tea Party
N
Non-uniform day
Night-time walk
Nature Trail
New Year's resolutions
O
Office Swear box
Opera evening
Olympic challenge
Online auction
P
Pancake Race
Pledges auction
Pub Quiz
Penny Race
Q
Queen for a day
Quizzes
Question Time with a celeb or the boss!
Quiet challenge
R
Raffle Rag Week
Riding Competition
Running Competition
S
Swim-a-thon
Stars in Their Eyes Competition
Salsa evening
School Play or Musical
T
Talent contest
Tombola
Treasure Hunt
Tea dance
U
Uniform free day
Unwanted presents
University Challenge competition
V
Variety show
Volley Ball competition
Visits
Vintage Wine Tasting
W
Wimbledon at home
Washing Cars
Wax your chest!
Wristband sale
X
Xmas disco
X-Factor competition
Xmas hamper
Y
Youth Club Disco
Yoga-thon
Z
Zoo-themed treasure hunt
Zany clothing day
Zodiac evening