Our 70 Heroes to Celebrate NHS70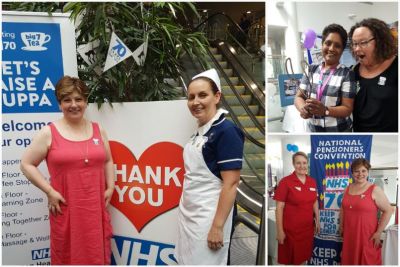 In the spring of 2018, to celebrate the 70th Birthday of the NHS, we asked staff, patients and the public to nominate their Whittington Health Hero. We wanted to find 70 everyday heroes who have done extraordinary things large and small to contribute to the NHS over the previous 70 years.

We received over 180 nominations, which were slowly shortlisted down to the final 70. The final 70 Whittington Health Heroes were invited to a reception hosted by our Chief Executive Siobhan Harington and Chair Steve Hitchins at which they received a special commemorative NHS 10p coin released by The Royal Mint to Celebrate the 70th birthday along with a copy of their citation plaque.
Copies of the heroes plaques will be mounted around the trusts sites over the coming weeks near to where the individual or team usually work.
During the reception, Siobhan Harrington said: "Often when I have the privilege to present staff excellence awards or tell people about great feedback patients have sent me, those receiving get embarrassed and tell me "but I was just doing my job". That is the reason we wanted to find Whittington Health Heroes to celebrate the NHS's 70th birthday. Because the NHS is full of people "just doing their jobs" but where those jobs mean saving lives, changing lives or being there for another person at their darkest and hardest moments. It often means putting yourself out because you put the needs of your patients or their families above your own. Starting before your shift is supposed to, not leaving until long after you should have done. It means being able to tell when someone just needs a bit of your time to talk and making them feel like they are the only person in the world whilst they open up or doing the big and small things behind the scenes that make everyone else's job possible.
When you work in the NHS "just doing your job" means doing more in a morning than many people achieve in a week.
Congratulations to all of our 70 heroes and to everyone who nominated them.
Page last updated: 15 Mar 2019