Support Your Local Health Care Charity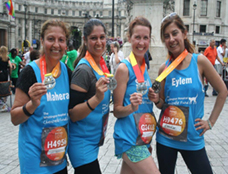 Main Address
Charitable Funds Head Quarters
Communications and Corporate Affairs
Jenner Building
Magdala Avenue
London N19 5NF
020 7288 3402
Hours
Monday to Friday
9am to 5pm
Whittington Health NHS provides hospital and community care services to 500,000 people living in Islington and Haringey as well as other London boroughs including Barnet, Enfield, Camden and Hackney.
As one organisation providing both hospital and community services, we are known as an 'integrated care organisation'. As the biggest employer in the area, with over 4,400 staff, we deliver healthcare on the acute hospital site, and through a variety of other channels including visits to patients' homes.

Whittington Hospital Charitable Funds raises money to help enhance education, equipment and facilities across Whittington Health NHS for the benefit of all our patients, visitors, colleagues and the wider community. As a registered charity (no. 1056452), we manage and distribute donations to reflect our clinical strategy and mission of helping local people live longer and healthier lives by providing safe, personal, coordinated care for the community we serve.