Growing Together: Support for Parents and Young Children

Do you live in Islington or have an Islington GP?
Do you have a common mental health problem such as low mood or anxiety?
Do you have a child between 1-5 years old? Do they struggle with eating, sleeping or behaviour?
Growing Together can help.
What is Growing Together
Growing Together is a service that helps both adults and children (aged 1-5) in a family with their mental health and wellbeing. This might be problems with emotions, behaviours and or relationships.
You might be feeling stressed out and overwhelmed like Ben:
"I feel really overwhelmed by being a parent. It's impossible to figure out how to help my son with his behaviour- nothing I try seems to work!"
You might be feeling down, low and tearful like Nadia:
"I feel really tearful and upset most of the time. I've got no energy and I'm always tired. I don't do things with my son and it's hard to give him the amount of attention he wants from me. I'm just a terrible parent."

You might be feeling anxious like Alex:
"I've always been a worrier but since my daughter was born it's got worse. I'm constantly worried about her. I'm keep checking that she's ok, even at night, and reading lots of advice websites. I'm concerned it is affecting her because she can be very clingy."

The way you're feeling may be impacting on your relationships like Vanessa:
"I feel frustrated and irritated by other people all the time. I've fallen out with family and friends. I get annoyed with my child and my partner. I feel very alone."
You might have experienced a trauma (e.g. violence, accident, war or a difficult bereavement) like Abdul:
"Things have been really difficult since then. Both me and my son feel afraid and on edge all the time and I'm not sure what to tell him about what happened. I'm worried that he won't feel safe again and he used to be so outgoing."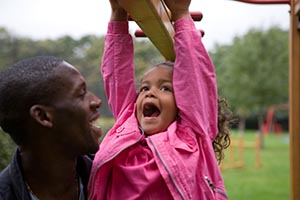 What we do
We can work with you in different ways, and sometimes a combination of these works best.

Adult Mental Health
We can offer therapies to tackle common adult mental health issues like depression and anxiety, including CBT and other therapies. Therapy often involves understanding how the past influences you, as well as developing ideas for things you can do differently in the here-and-now.
Family Therapy
This therapy believes that the way people interact with others, influences the way individuals think, act and feels about themselves and their difficulties. It focuses on relationships and ways that people in families interact in the present, and how this might be influenced by the family's experiences, history and surroundings.
In Family Therapy we use talking and other ways of communicating. We may ask you to think about inviting a range of different people from the family to attend.

Family Therapy helps people in close relationships:
think about how to help each other
express and explore difficult thoughts and emotions safely
understand each other's experiences and views
build on strengths in their relationship
make changes in their relationships and lives.

For more information please click here
Personalised Individualised Parent Training
In Personalised Individualised Parent Training (PIPT), we use play-based sessions to help you and your child increase the behaviours you want, and reduce the behaviours you don't want (in both you and your child). For example, it might be that you want to shout less, and you want your child to stop hitting.

We do this by setting up situations like home, for example taking a phone call with your child present. We stay in the room next door but can see how you and your child are doing through a one-way mirror. We talk to you using a hands-free phone and give ideas and advice of how to respond 'in the moment'. We can also show you video of the session, so that you can see how things went, including things you are doing really well!
Parent-Child Painting Group
This is a group for parents and children to play together and explore art materials. Parents have told us this improves their relationship with their child and stops them feeling so isolated. It can also help parents who are anxious about mess or their child's behaviour in a group setting. We support parents to talk together about how they are feeling, and about their child/family.
Parent-Infant Psychotherapy
We work with parents and children to help them communicate better and enjoy each other. The therapist helps parents to think about their child's play, emotions and behaviour. Parents also have opportunities to reflect on their own experience of being a child and how they would like to care for and set limits for their child.
Integrated Family Work
We can work with parents to understand what might be causing or keeping a problem going. When we understand the problem better, we can think together to work out some solutions. This might involve changes in routines, rules, or strategies. We always work with parents to find solutions that fit their family's needs.
Stress-less Parenting Workshops
In this workshop, you can learn more about stress and take away some ideas to help you stress less! This popular workshop is a one-off two hour workshop to learn some strategies for managing stress. They are regularly provided in children's centres around the borough and are widely advertised. No need for a referral, just sign up when you see it advertised!

"I really enjoyed the workshop. It was good to talk to other parents and get tips"

"Very friendly staff, was a brilliant workshop"
Mellow Parenting Group
Growing Together runs Mellow Parenting groups for mums who would like support with the challenges of parenting. It's a day-long group in which group members share with each other their ideas and experiences, while their children attend a crèche. In the morning, mums are given a space to think about their own experiences, both past and present. At lunchtime the mums, children and group facilitators all eat together and take part in a fun activity with the children. In the afternoon we think about parenting and how to understand and manage children's behaviour. Videos of group members with their child are used to help promote discussion about parenting challenges, and to receive advice and support from the group.
Click here
for more information.
Where would I see someone?
We work with families in various community locations in Islington, like children's centres or health centres.
How can I see the Growing Together team?
If you think that Growing Together could help your family, then please speak with your health visitor, GP, or someone from your local Children's Centre, nursery or school. They can talk to you about what support you would like and contact Growing Together for you.
Alternatively, you can self-refer, by calling iCope on 0303 123 1000.
One of the therapists from Growing Together will then telephone you to arrange a meeting with you.
We are a partnership between iCope, Adult Mental Health service (Camden and Islington NHS Foundation Trust) and Child and Adolescent Mental Health services (Whittington Health NHS Trust) and information is shared between the two NHS Trusts.

How can I get involved?
We want parents to be involved in Growing Together in as many different ways as possible – in fact many parents helped us choose our name and service logo.
If you have any ideas or would like to help us think about ways we can improve our service, we would love to hear from you. Call us on 0203 316 1824 or email us at
growingtogether@nhs.net
to get involved.
Information Leaflets