London Mayors' Walk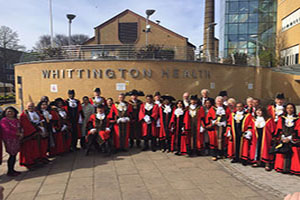 Want to raise funds for your department, service or ward and be part of an event steeped in tradition, then why not take part in the annual London Mayors' Association Walk on Sunday 8 April 2018. Setting off from the Whittington Hospital at 9.30am, the 5 mile sponsored walk follows the route that Richard 'Dick' Whittington, one of London's most famous Mayor's, took some 600 years ago to Mansion House in the City of London.
Every Mayor from every Borough of London assemble at the Whittington in their full robes and regalia before heading off for Mansion House in this prestigious event. Steve Hitchins, Chairman at Whittington Health, said: "It is wonderful to be part of such a colourful tradition. Dick Whittington is a character who is very close to heart of the hospital and London Mayor's alike and it is great to be able to celebrate the history together."
Any monies you raise can be donated to a part of the Trust of your choice. For more information and to register your interest in this very special event, please contact 020 7288 5641 or
fundraising.whitthealth@nhs.net
.