Fundraising Campaigns
Maternity and Neonatal Campaign
We are currently working on plans to develop maternity services at the Whittington. Please watch this page for future updates and news.
Singing For Your Lungs (SYFL) Choir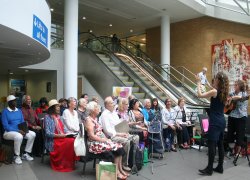 SFYL helps our patients suffering from long term respiratory conditions e.g. asthma, chronic obstructive pulmonary disease (COPD), fibrosis and bronchiectasis. Studies tell us singing helps by exercising upper body muscle groups, improving the efficiency of the cardiovascular system and improving oxygen intake.
The choir, initially funded by a donation from a grateful patient with COPD, costs just £10,000 per annum to run and members are supporting fundraising efforts to thank the organisers for the positive impact it has made on their lives and to ensure the choir continues.
81 year old Yvonne suddenly collapsed and was rushed to the Whittington. Bowel cancer was diagnosed with a 50/50 prognosis of survival. After several operations, 27 courses of chemotherapy, respite and missing out on Christmas dinner that year, Yvonne began to recover. Yvonne says 'I cannot thank everyone enough that cared for me and I really enjoy the choir. Please support it so others can benefit too'.
Please
click here
to the Singing For Your Lungs Choir