Breastfeeding Welcome Scheme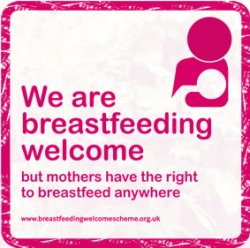 All women have the right to breastfeed their baby anywhere and a business cannot discriminate against mothers who are breastfeeding a child of any age under the Equality Act 2010 . However, making sure that mums feel comfortable when they are breastfeeding when out and about can make all the difference between whether someone continues to breastfeed or not. Many UK mothers – including Islington mums – stop breastfeeding before they want to or intend to. One of the reasons often given is that they feel uncomfortable breastfeeding in public, even though all mothers have a legal right to breastfeed wherever they like.
Many Islington venues have signed up to the Breastfeeding Welcome Scheme. By doing this, they declare that their staff will always welcome mums to breastfeed their babies on the premises and will support their right to do so with other clients. Mums can go into the venue simply to find a place to breastfeed and do not have to buy anything or be taking part in any activity. Over 100 places including health and children's centres, libraries, cafes, sports centres and parks have registered as breastfeeding welcome and display breastfeeding welcome stickers and posters, so that women wishing to breastfeed will know they'll be welcome there.
For a list of Breastfeeding Welcome spaces in Islington
click here
. Join us on our
Breastfeeding Islington Facebook
page for news, views and the latest places that have signed up to be breastfeeding welcome.
If you are a breastfeeding mother and would like to nominate an Islington venue as breastfeeding welcome, or you would like your business or organisation to become Breastfeeding Welcome contact the peer support coordinator on 020 3316 8439 or email
whh-tr.islingtonbreastfeedingpeersupport@nhs.net
.