Breastfeeding and starting on solid foods (weaning)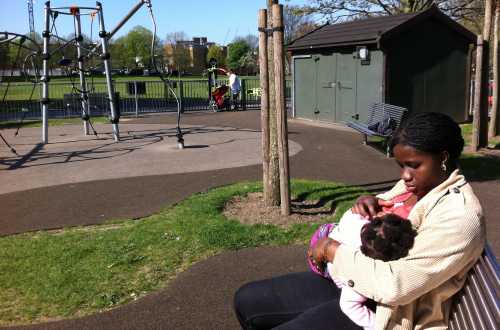 Breastfeeding and starting on solid foods (weaning)

Breastfeeding is one of the most important things a mother can do to improve the lifelong health of her child. Breastfeeding reduces the risk for babies of having ear and chest infections, gastroenteritis, asthma, eczema, allergies, childhood leukaemia, diabetes, obesity and cot death. It also reduces the risk of breast and ovarian cancer, diabetes and obesity for the mother.

We aim to provide encouragement, support and up-to-date information for all local mothers to enable them to breastfeed their babies confidently and successfully. For mothers who choose to bottle feed their babies, we aim to provide information to enable that to be done as safely and appropriately as possible. Support is also available on introducing solid foods to babies.

To gain the maximum benefit from breastfeeding and make it most likely to be successful, it is recommended that:
Babies are given only breastmilk for the first six months. Breastmilk contains all the nutrients a baby needs during this time. Giving anything else will reduce the health benefits of breastfeeding and decrease the supply of breastmilk, and other foods and fluids that may be given do not usually have the nutritional value of breastmilk.
Breastfeeding works best when babies are fed whenever they are hungry ('on demand'). Babies show they are hungry by opening and closing their mouths, making sucking noises, opening their eyes, turning their heads to bring their mouths towards you or sucking their fists. Waiting till the baby is crying before offering a feed may mean that a baby misses out on a feed and may make it more difficult for the baby to get onto the breast.
The World Health Organization recommends that breastfeeding should continue for up to two years or beyond, alongside giving solid foods from around six months, as it continues to provide both significant nutrition and protection from illnesses.
From six months of age, a vitamin supplement containing vitamins A,C and D should be given to all babies (or when a formula fed baby is taking less than 500ml infanct formula). Mothers are advised to take a supplement containing folic acid and vitamin D during pregnancy and breastfeeding to ensure that they have enough stores themselves and to pass on to their baby. If a mother has not taken a supplement during pregnancy, she may be advised to offer supplements to her baby earlier than 6 months. Mothers eligible for Healthy Start can obtain the vitamins using the vouchers. Other mothers can buy the vitamins at a low cost at several health centres in Islington.
Knowing that your baby is breastfeeding well

It is possible to know that your baby is breastfeeding well and getting enough milk, even though you cannot see how much they are taking. Your health visitor will talk to you about this, but some of the signs to look for are:
Your baby is generally calm and relaxed while feeding and is content after most feeds
When your baby is 3-4 days old and beyond you should be able to hear your baby swallowing frequently during the feed
After the first week, your baby should have at least six wet or heavy nappies a day
After the first 5-6 days they should also pass at least two yellow stools – "poos" - every day for the first 4-6 weeks. After that breastfed babies may go several days between stools, but they will be soft when they come. Before 5-6 days you will see the "poo" changing from black and tarry through dark green to yellow
Your baby has eight feeds or more in 24 hours in the early weeks (certainly no less than 6 feeds in 24 hours)
Your baby is feeding for between five and 30 minutes at most feeds, and usually comes off the breast him/herself
Breastfeeding is comfortable for you. Your nipple looks the same shape ath the end of the feed as it did at the beginning, though it may be a little longer. 
Your baby will lose some wight in the first few days, but will usually be getting back to their birth weight by the time they are two weeks old, and then continue.  They should be health and gaining weight according to their weight curve after the first two weeks 
Your baby's chin is firmly touching the breast, and the cheeks stay rounded during sucking
For really helpful short video clips on all aspects of breastfeeding, freely accessible and downloadable to phones, tablets and computers please go to
www.globalhealthmedia.org/videos
.  
If you need information or help with breastfeeding

Many mothers find some support with breastfeeding helpful. This can be at any time, from pregnancy and getting started, to your child's final breastfeeds. You can get access breastfeeding support:
By talking to your midwife or health visitor who may either provide information and support themselves, or advise you about breastfeeding drop-in sessions or telephone support lines
By calling the breastfeeding peer support coordinator to talk over the phone or arrange some one-to-one mum-to-mum help:
By calling in at a breastfeeding drop in to talk to a peer supporter (see below for times and venues)
By attending a baby clinic where a peer supporter is present (not all clinics)
By calling one of the national breastfeeding support lines – 0300 100 0212 (9.30am to 9.30 pm 7 days a week). Bengali/Sylheti supporterline: 0300 456 2421 at the bottom of this page.
Contact the Peer Support Coordinator on 020 3316 8439, or Infant Feeding Coordinator on 020 3316 8441 for more information.

Mum-to-mum (peer) support – talking to other mothers

It can take a little while in the early weeks for the baby to learn how to breastfeed effectively. Talking to a trained peer supporter can often help mothers breastfeed their baby comfortably and manage any difficulties they might encounter. Peer supporters are local mothers who have experience of breastfeeding and have been commissioned by the NHS and trained by the Breastfeeding Network charity, commissioned by the NHS in Islington, or the NCT in Haringey, to support other mothers. 

Islington peer supporters are available at breastfeeding drop-in sessions and are at some parents' groups, antenatal and baby clinics. Islington supporters. They also visit the postnatal wards of the Whittington and UCLH hospitals each morning to give information and support to all Islington mothers, and phone every Islington breastfeeding mother about 3 days after their baby is born to see how feeding is going and offer support in the early days of establishing breastfeeding. They also sometimes do home visits.

Breastfeeding drop in sessions are informal meetings at children's centres where mothers can talk through any concerns with peer supporters and meet other mothers who are breastfeeding. There is usually a separate room available if you prefer to feed your baby or talk to a supporter in private.

In Haringey peer supporters come into the Whittington Hospital postnatal wards, do some home visits and also run drop-ins offer home visits to women from certain areas of Islington within a few days of going home from hospital. Other home visits from peer supporters can sometimes also be arranged.

Breastfeeding drop in sessions are informal meetings at children's centres where mothers can talk through any concerns with peer supporters and meet other mothers who are breastfeeding. There is usually a separate room available if you prefer to feed your baby or talk to a supporter in private.

Islington has a Breastfeeding Islington Facebook page, where updated information is posted about drop-in times, especially over holiday periods.
A list of local breastfeeding drop in sessions and information on how to become a breastfeeding supporter can be found on the Islington and Haringey Infant Feeding breastfeeding pages.

Becoming Baby Friendly

Islington has achieved is working towards gaining the UNICEF Baby Friendly best practice award and Haringey and the Whittington Hospital are working toward this. . The Baby Friendly standards aim to ensure that parents receive effective, evidence-based improve the information, support and encouragement provided to enable them to:

build a strong relationship with their babies from the beginning, thus helping their baby's brain development and emotional security
confidently and successfully breastfeed their babies
appropriately and safely bottlefeed, should they choose to do that
know how to introduce  in order to promote protect and support breastfeeding and appropriate introduction to solid foods.
This means that all Islington midwives, health visitors and other health and children's centre professionals have training to enable them to support parents will have baby friendly training in supporting breastfeeding effectively. More information is available on the UNICEF Baby Friendly Initiative website – www.babyfriendly.org.uk.
Starting on solid foods

Based on the latest research, it is recommended to wait until your baby is around six months old before introducing solid foods. There are several reasons why it is worth waiting until this time:
breastmilk (or formula, if not breastfeeding) provides all the nutrients your baby needs in the first six months. Giving anything else will reduce the amount of milk your baby takes, without providing them with the same amount of nutrients. It also may reduce your supply of breastmilk

your baby will be developing the skills enabling them to cope well with solid foods well and eagerly. They will be able to:

 - sit up with support and hold their head steady, making it easier for them to reach out for foods, and making choking less likely;

 - coordinate their hands, eyes and mouth to look at food, pick it up and put it in their mouth all by themselves. They are eager to try food, rather than you having to try and persuade them;

 - move food around their mouth and swallow some of it, rather than pushing it all back out again. They will be able to munch on the food, even though they may not yet have teeth;

 - their body systems, like the kidneys and gut, will be mature enough to cope with solid foods well;

 - cope with more solid foods from the beginning – either as finger foods that they pick up themselves, or on a spoon – rather than having to start with pureed food. This makes it easier for you, saving time and energy.

They are able to listen to their internam signals telling them when they are hungry and when they are full, so are less likely to over eat reducing the risk of being overweight.
they are able to try nearly every type of food from six months, whereas before that there are many things that are not suitable for them (e.g. eggs, meat, fish). When starting at around 6 months, it is important to offer them a wide variety of foods from the beginning.

See our Milk and More leaflet

and the Department of Health '

Introducing solid foods' leaflet

and

website links below for more information

.