Occupational Health and Wellbeing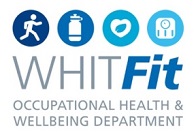 Main Address
The Old Police House
Whittington Hospital
Magdala Avenue
London
N19 5NF
020 7288 3351
Hours
Office hours:

Monday to Thursday 9.00am to 5.00pm & Friday 08.30am to 4.30pm.


 

Vaccination walk in-clinics at Whittington hospital:

Mondays 2.00pm to 4.00pm & Fridays 08.30am to 11.30am.
Occupational Health (OH) is a specialist branch of medicine that focuses on the physical and mental wellbeing of employees in the workplace.
The aim of Occupational Health is to prevent work-related illness and injury by:
    •   encouraging safe working practices;
    •   promoting health and well-being;
    •   monitoring the health of the workforce;
    •   supporting the management of sickness absence;
    •   conduct pre-employment health assessments;
    •   work with your employer to implement policies and ensure health and safety compliance;
    •   provide advice and counselling to employees around non-health-related problems; and
    •   provide your employer with advice and guidance around making reasonable adjustments to your working conditions.