What to bring with you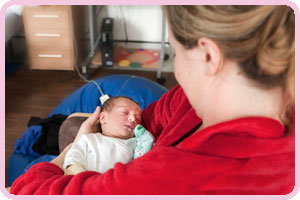 Have your bags ready!
Only 5% of babies actually come on their due date, so it is always a good idea to have your bags packed and ready to go.

Although it is tempting to bring everything including the kitchen sink to the hospital, in reality you donít really need very much.
Below is a list to get you started:
For you

Old night / t-shirt for labour nightware

Lightweight dressing gown

Slippers

Big knickers / disposable knickers

Nursing bras

Wash kit

Towel
Sanitary pads - extra absorbent, not tampons

Clothes to wear on the ward and for going home - loose clothing such as tracksuit trousers and t-shirts
Any medications that you usually take

Snacks for you and your partner
For your baby
Nappies

Cotton wool (not baby wipes)

Vests (4)

Clothes (4 sets)

Hat

Mittens

Shawl / blanket

Car seat / pram - to take the baby home, all babies must be in a secure carrier to go home

If you are going to bottle feed, please bring in the milk and bottles that you wish to use