Self referral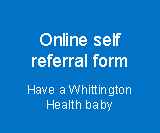 If you would like to have your maternity care at Whittington Health you can:
Refer yourself directly to our midwifery team by completing an online self referral form
Phone our midwifery team on 020 7288 5586
Ask your GP to refer you
The first step as soon as you know you are pregnant is to arrange to see a midwife.
If you would like to be seen by our midwives we would like you to contact us as soon as you know you are pregnant, so we can ensure that you get the maternity care that best suits you. The earlier you contact us the better.

We can help you choose the options that are right for you. We recommend you see a midwife for the first time before you are 10 weeks pregnant. It is recognised that the earlier a woman seeks advice once she knows that she is pregnant, the more informed she will be to make decisions about her pregnancy.
When we receive your referral we will arrange an appointment with a midwife to plan your maternity care, including scans and screening tests as required. At this first 'booking' appointment we will discuss all aspects of your pregnancy and childbirth and offer you a choice of the antenatal care and screening that suits you. Plans for your birth will be recorded in your notes and you can update this as you like throughout your pregnancy.

You can refer yourself to us at any point throughout your pregnancy.