Birth places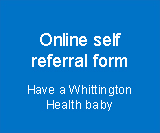 Depending on your pregnancy you can choose to have your baby:
At home
In our birth centre
On our labour ward
It's important that you and your partner have all the information you need to make choices about where you would like to give birth. It is your choice and even after you have decided where you want to have your baby, you can still change your mind.
Wherever you choose, the place should feel right for you.
Your midwife will discuss the options with you.