Podiatry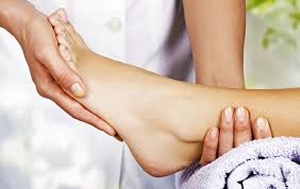 Main Address
Please see list of locations
Hours
Monday to Friday
9am to 5pm
Our service specialises in assessing and treating problems of the lower limb particularly of the foot and ankle. Podiatrists aim to maintain and promote good foot health within the population of Islington and Haringey in order to help sustain mobility, independence and reduce pain.
We can assess a patient's foot problem and provide them with treatment and self-care advice as appropriate to their individual needs. Our service strives to support patients to self-manage their foot problems in order to improve and increase control over their foot health.

What does the service do?
Islington and Haringey are very diverse boroughs and we understand that different groups of people need different types of care. Our service therefore offers an extensive range of treatments including:

Treatment of foot pain
Podiatrists can help diagnose foot pain by assessing a patient's foot structure, gait analysis and alleviate pain through the prescription of orthotics or innersoles.

Treatment of the high-risk foot
Podiatrists play an important role in caring for patients that are at risk of foot problems. These patients can be at risk of foot ulcers, infection and possible amputation and therefore take priority over our lower risk patients. Many conditions can put a person at high risk including diabetes, circulation problems and rheumatoid arthritis.

Treatment of skin and nail conditions of the foot
Our service only provides this service to those patients with both a medical and podiatric clinical need.

Toenail surgery
Some persistent nail conditions, e.g. ingrown toenails, can be permanently resolved through a minor surgical procedure carried out under local anaesthetic.

Injection Therapy
Specially trained podiatrists can administer anti-inflammatory injections into the foot to resolve painful conditions, where conventional treatments have failed.
Please visit the Whittington 
Musculoskeletal Services
web page for more help on managing your pain which includes videos and leaflets.
Appointments
Community referrals and appointment queries should contact:

Urgent Podiatry Hospital referrals should contact:
The Whittington Hospital Podiatry Department
Tel: 020 7288 5695
(please note we are unable to deal with community queries on this number)
email:
Referral
Community

The Podiatry Foot Health Service is available to people registered with a GP in Islington and Haringey only.  All Patients can either be referred by their GP or other health care professional or self refer.
Self-referral forms can be found below in the 'Related Documents' section or by contacting the Central Booking Service.

Whittington Hospital (Clinic 3B)

This is an acute consultant lead, multidisciplinary clinic which only treats high-risk, urgent foot complications e.g. diabetic or ischaemic foot ulcers, gangrene or charcot feet.
Internal hospital referrals (in and outpatient) must be made via Anglia ICE. These referrals will be triaged based on the information supplied. Urgent internal referrals should be phoned through once a referral has been made.
Urgent acute referrals should phone the department on 020 7288 5695 to discuss the patient, with a podiatrist. DO NOT SEND REFERRAL VIA Central Booking Service (CBS).
Useful resources
The Society of Chiropodists and Podiatrists
Further Information
Contact us:

Podiatry Administration:
020 3074 2240 / 020 7527 1205
Whittington Hospital Podiatry (Clinic 3B) enquiries:
020 7288 5695

Related Documents