Social Communication (Islington)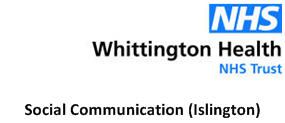 Main Address
Northern Health Centre
580 Holloway Road
London N7 6LB
020 3316 1901
Hours
Monday to Friday, 9am-5pm
Our social communication team assess, diagnose, treat and advise children aged 0-5 years who are referred with possible autism spectrum disorder (ASD).
We see children whose GP is located in Islington (live in Islington and/or attend early years education or care in Islington.)
Our team consists of speech and language therapists, occupational therapists, clinical psychologists, Paediatricians and a family counsellor.
Assessment
A thorough assessment will identify areas of strength and need, ensuring targeted intervention is provided early in your child's life. 
Interventions
Interventions include:
Supporting families and professionals to better understand your child's areas of need, through individual and group training or programmes
Targeting specific areas of development through direct and indirect therapy
Support transition e.g. into school 
Directing parents to other organisations who can also help them
Support is provided until your child is discharged, transferred to a different team (for example, early years speech and language therapy) or transferred to a school based team during reception year.
Package of care
A package of care will be designed according to the needs of individual children. The majority of this is likely to be group programmes for parents or children, and support to the education setting.

Referral
We accept referrals from all professionals by email.

Lead manager
Vicky Matthews