Early Years Development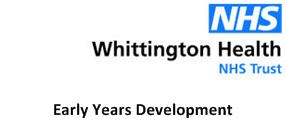 Main Address
Northern Health Centre
580 Holloway Road
London
N7 6LB
020 3316 1880
Hours
Monday to Friday
9am to 5pm
Our early year's development team assess, treat and manage care for children with physical disabilities, speech, language and communication needs as well as developmental delay.
Our team works with children under five alongside their family, nursery and other carers. We provide support to children and their families when they are discharged home from hospital (including from our neonatal intensive care unit). This includes reviews of your child's development, equipment, housing advice and therapy to support your child's development.
We run a one-stop assessment clinic covering physical disability, developmental delay and speech and language impairment, and a clinic that covers speech and language therapy only.
For children over the age of five, our team provides coordination and review of healthcare for those with neurological disorders such as cerebral palsy. We also support children to transition when they start at mainstream and special schools.
Referral
We accept referrals from GPs, healthcare professionals, social care professionals and parents by email.
Lead manager