Islington Additional Needs and Disability Service (IANDS)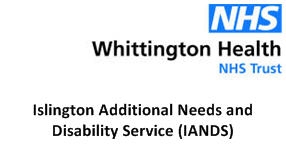 Main Address
Northern Health Centre
580 Holloway Road
London
N7 6LB
020 3316 1877
Hours
Monday to Friday, 8am-5pm (some late nights until 7pm)
Our service supports children and young people with additional needs and disabilities to reach their full potential. This can mean being active in their community, developing friendships and enjoying an ordinary life the same way as other children.
We also provide parents with appropriate information, support and advice for them and their family.
The Islington additional needs and disability service includes the following teams:
Early years development
Mainstream schools
Musculoskeletal physiotherapy
Social communication (0-5 yrs)
Special schools health
Our teams are made up of various healthcare professionals including speech therapists, occupational therapists, physiotherapists, clinical psychologists, specialist nurses, family counselling, therapy assistants, health care assistants and specialist key workers. We work in partnership with Islington local authority.
The teams work across various locations in Islington, including the Northern Health Centre, schools, children's centres & at The Whittington Hospital.
Training and development opportunities are available to health, education and social care professionals who work with children with additional needs and disabilities.
OUR SERVICES
Social Communication (0-5 years)

Our social communication team assess, diagnose, treat and advise children aged 0-5 years who are referred with possible autism spectrum disorder (ASD).
We see children whose GP is located in Islington (live in Islington and/or attend early years education or care in Islington.
Our team consists of speech and language therapists, occupational therapists, clinical psychologists, Paediatricians and a family counsellor.
A thorough assessment will identify areas of strength and need, ensuring targeted intervention is provided early in your child's life. 

Interventions
Interventions include:
Supporting families and professionals to better understand your child's areas of need, through individual and group training or programmes
Targeting specific areas of development through direct and indirect therapy
Support transition e.g. into school 
Directing parents to other organisations who can also help them
Support is provided until your child is discharged, transferred to a different team (for example, early years speech and language therapy) or transferred to a school based team during reception year.

Package of care
A package of care will be designed according to the needs of individual children. The majority of this is likely to be group programmes for parents or children, and support to the education setting.
Client Groups
The service works with children and young people aged 0-19 who have:

a physical disability
learning disability
speech language and communication needs 
autism spectrum condition
Down's syndrome
problems with development
problems with coordination
disorders that affect the body's muscles, joints, nerves
Referral
Speech and language therapy run drop in services at children's centres which are open access, and we accept referrals for additional support from any professional known to the child including GP by email. Please note consent for direct referral is mandatory.
Useful resources
Further Information
Lesley Platts
0203 316 1879
Referral forms