Whittington Health Library (WHL)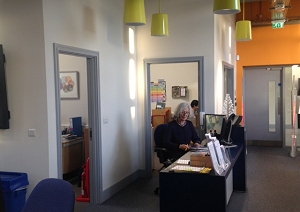 Main Address
Whittington Health Library
Whittington Hospital
Highgate Wing - Level 1
Dartmouth Park Hill
London
N19 5JG
020 7288 3580
Hours
Monday - Thursday
Staffed from 8.30am - 7pm
Swipe/Keycode access 7pm - 10pm
Friday
Staffed from 8:30 - 5pm
Swipe/Keycode access: 5pm - 8pm
Whittington Health Library offers a comprehensive and modern library service to NHS staff from Whittington Health, Camden and Islington NHS Foundation Trust, Islington CCG and Primary Care. Book loan and IT services are also provided to UCL students working at Whittington Health, as well as study space and IT services for Middlesex University students on placement at the hospital.

Where are we? The library is based in the Highgate Wing of the hospital on Dartmouth Park Hill. We are close to several transport links, making it easy for you to visit.

What have we got? The library collection covers areas such as medicine, nursing and mental health. There are quiet study and reading spaces, a computer area and a dedicated training room which can be booked for meetings. As well as traditional library services, the facility offers students innovative ways to access resources. The library is taking part in a pilot project to provide medical textbooks and local clinical guidelines to junior doctors as smartphone apps, making them instantly accessible at any time. There are further information resources available online.

Our mission Our members needs are central to how we approach the service and we invite your suggestions and contributions to ensure that you, the user, are receiving a service that is relevant. Our goal is to support you in the work that you do, in your learning and development and any research activities that you may undertake.