Infant Feeding Support Service (Haringey)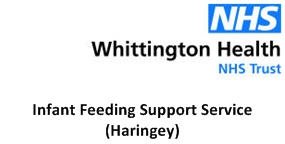 Main Address
Tynemouth Road Health Centre
24 Tynemouth Road
London N15 4RH
020 3224 4300
Hours
9am – 5pm Monday to Friday
The infant feeding lead works closely with the Health visiting service to support the development and implementation of the healthy child programme with a particular focus on the high impact areas of breastfeeding and infant nutrition.
The lead works with the Healthy Child Programme team and Health Visiting teams to establish localised general and specialist breastfeeding support within the health visiting service, working with and building upon the work of peer supporters in the community.
The Lead delivers the UNICEF baby friendly training which includes skills based practice and  training  supporting staff and parents with infant feeding. The lead also has a focus on nutrition in infancy and early childhood promoting the uptake of healthy start vitamins and vouchers,  healthy eating and guiding  the  local HV and early years teams to develop community capacity for healthy eating and physical activity.
Client Groups
Antenatal women
Parents to be
Breast feeding/bottle feeding parents and partners
Infants and families with children under 4 years old.

Helpline
National Breastfeeding helpline - 0300 1000212
Appointments
No
Useful resources
To refer to breastfeeding groups, please visit:
Further Information
Head of Borough
Lynda Rowlinson 
Deputy Head of Borough
Jane Grant